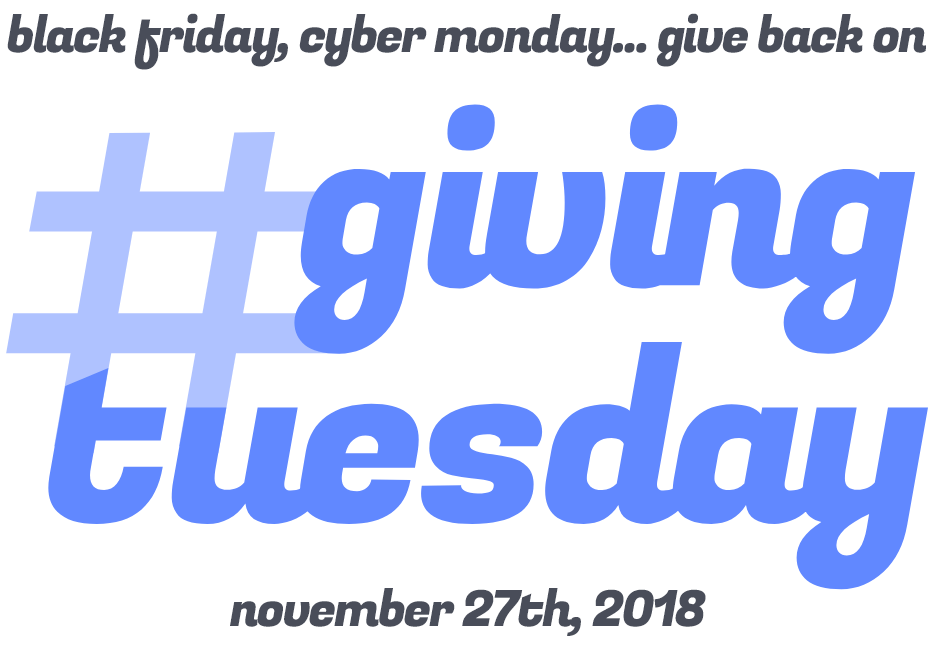 On Tuesday, November 27, 2018, many of us will be heading back to work after a long holiday weekend, still bloated from Thanksgiving feasts and light on cash after shopping during Black Friday and Cyber Monday's blockbuster sales. What's the cure for this overconsumption hangover? #GivingTuesday, of course!
#GivingTuesday is a 24-hour day of giving that will help you refocus on what's important and support the causes you care about. On Mightycause, we've got thousands of charities raising funds, and many of them are registered for #GivingTuesday. Mightycause has been hosting #GivingTuesday events for 6 years now and it's one of our favorite days of the year. It's one of the most important days of the year for nonprofits too — it kicks off the season of giving, helps them make progress toward their fundraising goals so they can keep operating the following year, and puts them in the running to win $10,000 in prize grants from the Mightycause Foundation.
Here's how you can cure your holiday blues and give back on #GivingTuesday:
Donate to a Nonprofit
It's no secret that one of the most impactful things you can do to support the causes you care about is giving money. It may feel better to donate clothes, canned goods, or other material items, but the reality for most nonprofit organizations is that money is what's needed the most. Nonprofits need to fund their programs, keep their lights on, and pay their staff in order to keep doing their important work. The number one thing you can do to help out on #GivingTuesday is donate money.
You don't need to donate a lot. Smaller donations add up quickly. Those $10, $15, and $25 donations can make all the difference to a nonprofit on #GivingTuesday. On Mightycause, we've got thousands of nonprofits you can give to on #GivingTuesday, and they all need your help to meet their fundraising goals. We've also waived our platform fee for #GivingTuesday to help your donations go even further!
Mightycause makes it easy to find causes you care about and make a donation. Not sure what organization you want to donate to? No problem! We've made them searchable by category and location.
So whether the cause closest to your heart is animal welfare, the environment, education or the arts, you can find an organization on Mightycause worthy of your support.
Once you've found an organization you want to support, click Donate. Our checkout process is streamlined so you can make a donation faster than you can write a Facebook post.
Mightycause also gives you the option to donate on a monthly basis. The amount you choose will automatically be deducted from your credit card so you can make a difference year-round. Recurring donors are vitally important to nonprofits, so when you make a donation, consider whether you can afford to donate every month.
P.S. We like to build up the buzz before #GivingTuesday even starts! That's why nonprofits on Mightycause can start accepting donations for their #GT campaign starting on November 13th! You want to get a jump on your donation plans? You can make your donation to your favorite nonprofit even BEFORE you head home for Thanksgiving or spend all your hard-earned cash on shopping deals!
Start a Fundraiser
If you want to help your favorite nonprofit in a more hands-on way, you can start a fundraiser for them.
Never hosted a fundraiser before? It's as easy as telling a story about why this cause is important to you. Once you've told that story, the hard work is done, you just get to share that personal story with family and friends. It's totally free to set up a charitable fundraiser on Mightycause, so if you want to make a big impact but don't have much money to give, donating your time and effort to running a #GivingTuesday fundraiser is a great way to maximize your impact.
On Mightycause, the money you raise in a charitable fundraiser goes directly to the nonprofit. The total amount you raise will be added to their total amount raised for the day. How does that help them? Well, nonprofits compete for prize money on #GivingTuesday. Every dollar they add to their total helps get the closer to topping a leaderboard and winning a prize, and every donation can help them win a $100 Golden Ticket. You can strategically drive traffic to your page during Power Hours to help your favorite cause win up to $1,000.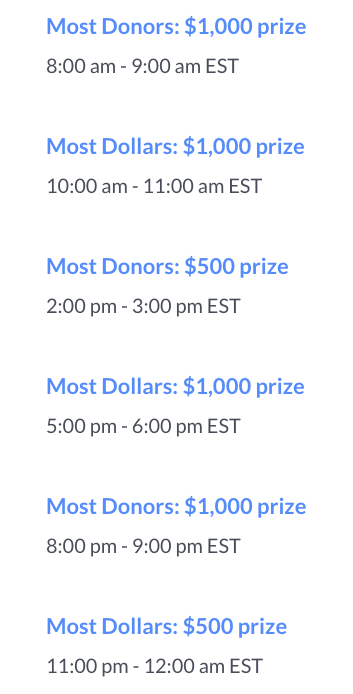 Mightycause has more than $10,000 to give away this year so helping your favorite nonprofit raise money could be a huge deal for their bottom line.
Starting a fundraiser also helps nonprofits reach beyond their usual supporters. You'll be reaching out to your family, friends, neighbors, coworkers, and social media followers to help — and most of these people aren't already in the nonprofit's donor database. You're helping to bring new supporters into the fold and getting them to engage with a cause that's important to you. The value of that may even outweigh the money they raise on #GivingTuesday or any prizes they win by giving them new supporters who are willing to donate to their work.
Get Active on Social Media
In 2018, most Americans use at least one social media platform, with many of us using Facebook, Twitter, Instagram, Pinterest, and Snapchat all in the same day. Helping a cause on #GivingTuesday can be as simple as sharing a post.
Think it sounds crazy that your social media post would matter? Well, the efforts nonprofit organizations make to promote their fundraiser are limited to their existing list of donors, email subscribers, and followers on social media. That can be a pretty limited pool. But by sharing a post, or writing a post encouraging your friends and followers to donate to your favorite nonprofit on #GivingTuesday, you're helping the nonprofit reach people they may have never been able to reach. And if those people share with their friends, and so on and so on, you can see how a post from you can have a huge impact.
On Mightycause, we have Power Hours where nonprofits compete to win prize money. You can see the schedule here. If you post on social media encouraging the people you know to make a donation during one of our Power Hours, you not only help promote the fundraiser, but you can help the nonprofit win valuable prize money.
A social media post is free. It's easy. It can take just a matter of seconds with Mightycause's social sharing tools. Even if you don't have a dollar to donate on #GivingTuesday, sharing fundraisers on social media can be incredibly powerful.
Volunteer
Time is money, as they say, and one meaningful way you can participate in #GivingTuesday is volunteering.
If you have a favorite cause, give them a call or write them an email to see if they have a need for volunteers to help with their #GivingTuesday campaign. #GivingTuesday is an online event, but there's a lot of work that goes on behind the scenes that you might be able to help with! From creating images, to handing out fliers, to helping produce videos, there are lots of ways you might be able to use your skills to help your favorite charity's #GivingTuesday campaign. Helping with day-to-day tasks at the nonprofit, like walking dogs at an animal shelter or helping office staff answer phones, can also be a huge help!
As you can see, there are LOTS of ways that you as just one individual can make a big difference on #GivingTuesday. So we invite you to jump in and get started, find a cause that you are passionate about and give back in your own way this holiday season!