As with any campaign, specificity is key. Even at the end of the year, donors like to know exactly what their donation will support. Are you filling a funding gap? Are you looking to kick off a new program, or open a new location in the new year? What impact will this campaign have, specifically, for your organization's work. Along with a programmatic goal for the campaign, you'll want to set a financial goal as well. Not only will this give you and your staff a guideline to measure progress against, it's critical to the mindset of a donor to see how close you are to reaching your goal, and how their donation might help you get there.
Tell a Personal Story
Storytelling is always important, but during the end of the year, it's even more critical. Donors will be receiving all kinds of appeals from different causes, and they want to make sure that their gift will really make an impact. A personal story or testimonial, from an individual, a family, an animal (or whatever else your work might support) can go a long way in creating an emotional connection between your potential donor, and the work that your organization does. Start gathering photos, quotes and testimonials to build out content for emails, social media and your donation page on Mightycause. If you can organize this content into a short video, you'll tell an even more powerful story!
Make your Mightycause page shine
Now that you've identified your key message, and you've crafted the language that will help tell your story, make sure that your Mightycause page reflects that. You want to give donors a consistent message through email, social media and on your donation page. When they click through from one of your campaigns, they should be landing on an optimized and well-designed Mightycause page.
Keys to optimizing your Mightycause page:
Upload a strong cover photo to evoke emotion
Create a clear call to action in your Short Story aligning with a tangible goal
Include custom donation suggestions to encourage donors to give at certain impact levels
Tell a dynamic story that includes testimonials or personal stories about the impact of your work
Add an End of Year Match
Just like at every other time of the year, a matching challenge is always a great way to add urgency to your year-end appeal. It can be a small or large match amount, just something to encourage your donors to take action immediately to help you secure the additional funds. Struggling with who to ask for your year-end match? Is there a major donor that typically makes a large gift this time each year? Ask them if you can use their gift as a matching incentive for your campaign (and remind them why that's a valuable thing!). Once you have a match, make sure you add it to your Mightycause page to display the incentive!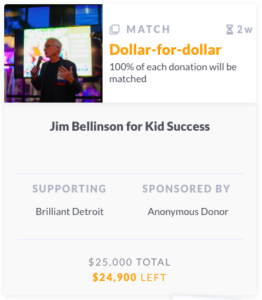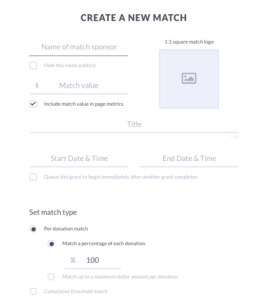 Engage a Corporate or Local Business Partner
During the holiday season, many companies and businesses are looking for opportunities to give back. While some may default to a food or toy drive, you know that what is often most impactful for your nonprofit are funds to continue activities critical to your mission. Reach out to a company you already have a relationship with, or a new partner that might align well with your mission or your audience. You can also consider reaching out to a local radio station. People are turning on their radios right now to listen to some holiday tunes, so it's a great time to partner with a local radio station to broaden your network (especially if your program serves their listener area!)
Plan for Your Different Audiences
Your year-end strategy should be smart. Don't just send a single email blast to your full donor database. They've all interacted with you in a different way this year, so segmenting your communications can be key to converting them for one final donation this year, not to mention ongoing stewardship to recognize their unique involvement. Each nonprofit will have different segments to consider, but here are a few key ones to engage:
Board Members: They give (hopefully!) year round, but if a Board Member hasn't made their contribution yet, this is a great chance. More than likely, this can be a great opportunity for them to send an emotional appeal to their friends and family about why they have chosen to be involved and volunteer for your organization.
Monthly Donors: They give throughout the year, and that is a critical way that they show their support on an ongoing basis. If you do ask for a gift, make sure you recognize their monthly contribution, and consider a lower ask string. If you don't ask for a donation directly, ask them to help you spread the word.
Donors who already gave you a gift this year: Any donation ask should reference their previous gift. If they gave recently on #GivingTuesday, consider how it is best appropriate to involve them again. Once a donor has made their year end gift, exclude them from future appeals so they know you've received it!
Donors who haven't yet given this year: This is a key group to target with a strong donation call to action. Be sure to include the dollar amount that they gave you last year, and encourage them to meet or exceed that amount this year.
Contact Mightycause Support here for help, feedback and support!