5 Tips to Make Your Team Fundraising Page Look Incredible
Tips for designing your team page to maximize donations, drive your campaign forward, and maximize your fundraising efforts.
When you're running a team fundraiser on Mightycause, your team page is what it's all about. It's where you'll send people to sign up to fundraise as a team, what will represent your campaign, where you'll track your team members, and what donors will see when they check in on the progress of your team. So it's important to make sure your page looks sleek, customized, professional, and represents your cause well.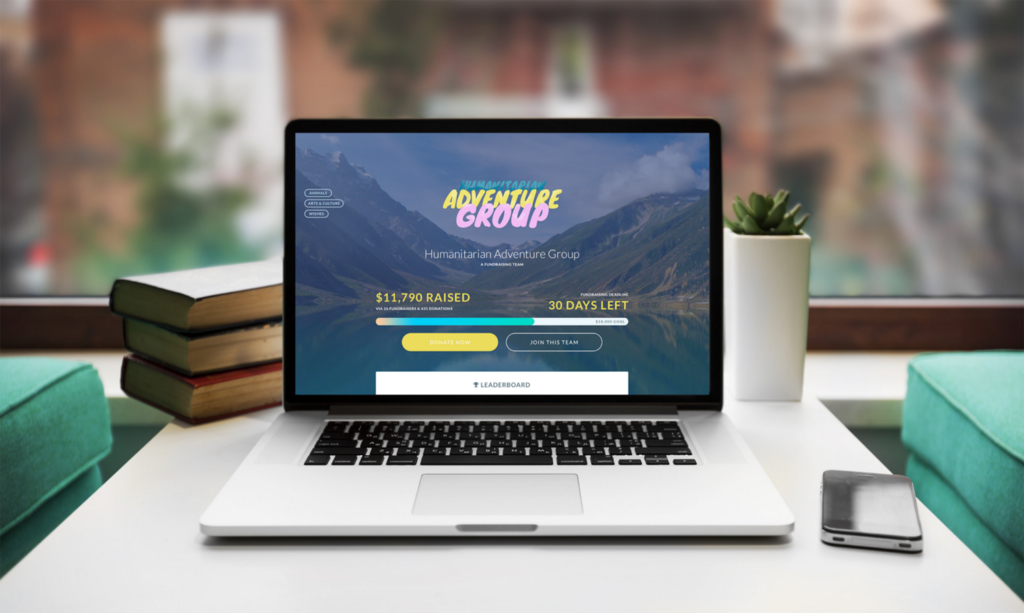 The Mightycause team worked around the clock to make team fundraising easier and more effective, and we've created some of the best tools on the market to customize your team page. Here's how to use those tools to make your team page stand out, attract donations, and push your team across the finish line. (Click here for a technical walkthrough of using our design tools!)
Choose a great background image
One of the highlights of Mightycause's new team page customization options is the ability to add a background image. You can add a bold, arresting image that sets the tone for your campaign and entices people to spend time absorbing the content on your page. Your choice of background image can be the deciding factor in whether you have a drab, ordinary-looking team page or one that has your team members and bosses raving about how great your page looks.
So, what makes a great background image? Well, most importantly, it needs to remain in the background, so a simple, bold graphic works best. You'll want to stay away from images that are too busy or have text, since you'll have text and graphics displayed over the image. A great background image is relevant to your team and enhances your page. You'll need a large image file (about the size of desktop wallpaper) that is high-quality. You may already have images kicking around that would make great background images, but stock photos can work well too.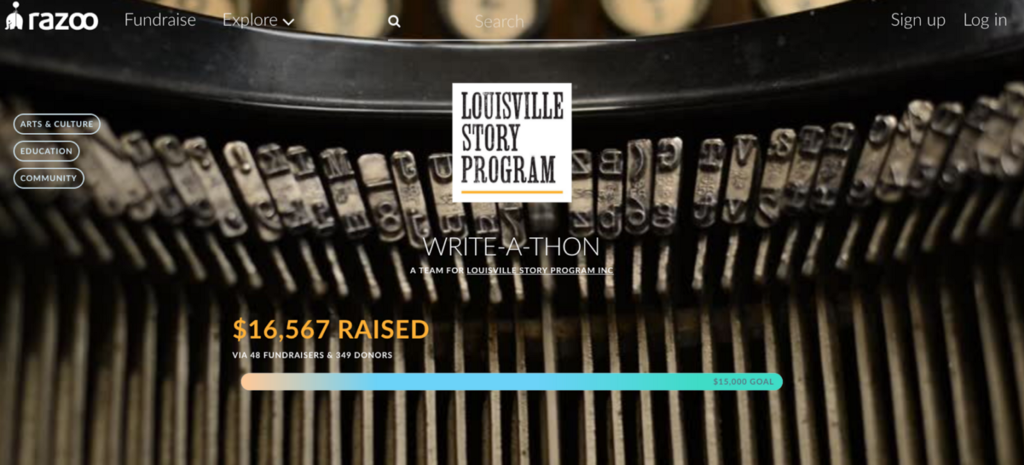 Louisville Story Program hosted a "write-a-thon" on May 20, 2017, and before the event, had participating writers drum up support for the program with a team fundraiser on Mightycause. They raised over $16,500 (exceeding their $15,000 goal) and had a stellar team page. Their background image is of a typewriter — it's simple, bold, and tells the story of their fundraiser. The addition of this background photo took their page from solid to striking. The Louisville Story Program's Write-A-Thon page is a great example of how a stock photo can be utilized to set the stage for your team fundraiser and make your team page look and feel cohesive, cool, custom, and professional.
If you're not sure what to choose as your background image, here are a few suggestions:
Are you creating a team page for an event you've held in previous years? Use a great photo from last year's event.
If your team is specific to a location, try using a stock photo of that location! For instance, if you're planning a climb up Mt. Kilimanjaro, there are tons of photos of the mountain you can use as your background image. If you're fundraising for a mission trip to Guatemala, use a photo of the stunning landscape in Guatemala. If you're raising money as a team for a marathon in New York City, why not use a photo of the New York skyline? These kinds of photos are widely available for free!
If your fundraiser has to do with animals, your job is easy — use a photo of an animal as your background image!
Think about your fundraiser and any images that would quickly and effectively convey what you're trying to do. Louisville Story Program chose a typewriter, because their team and their nonprofit was all about writing. If your fundraiser is for education, try images of books, libraries, a chalkboard, or a classroom. (You can use real images of your school, and stock images work just as well.) If you're hosting a walk-a-thon, walking shoes or a track would be an easily accessible and easy-to-understand representation of your fundraiser.
Here are a few websites you can use to find free images:
2. Enhance your background image with a filter color
You can make your page look even more customized and cool by choosing a filter color for your background image. This adds a wash of color to your background image to either mellow it out, make it pop even more, or just make it fit in better with your page.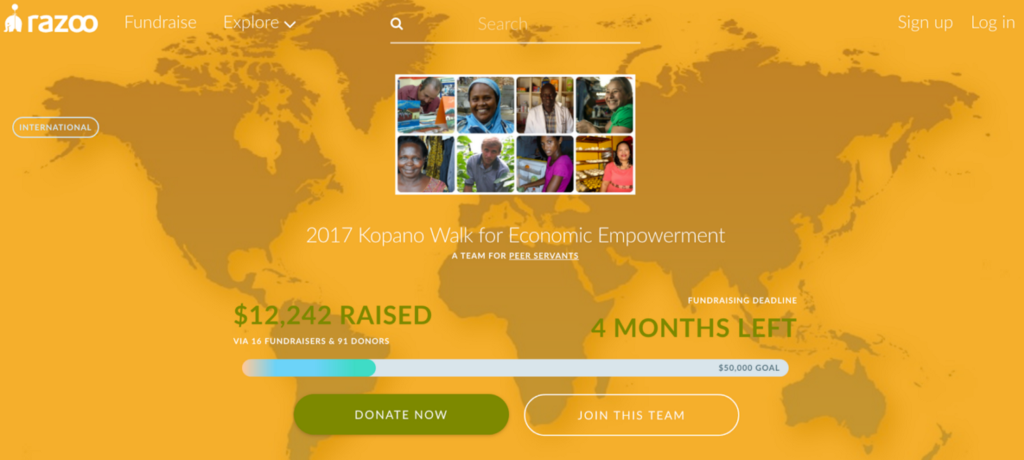 PEER Servants used the filter color to great effect on their page for 2017 Kopano Walk for Economic Empowerment. They took a very simple image (a world map) that represented their team fundraiser's purpose and added a wash of gold to make their page stand out.
You can use a filter color alone as a background, which will make your background a solid color, but you can do so much more by choosing a background image and using the filter color to enhance it. A filter color can turn your graphic into something totally new, like PEER Servants did on their page, mute a background image with a lot going on, or just use color to tie your team page into your brand and logo colors.
3. Optimize your logo
In the Team Logo spot on your page, the logo for your nonprofit, team, or the event you're hosting is an obvious choice. But take a look at your logo: is it a JPEG with your logo in a white square? That will work, but it's not ideal because the white square is distracting. Uploading a transparent PNG file will look great against your background image, and enhance the look of your page.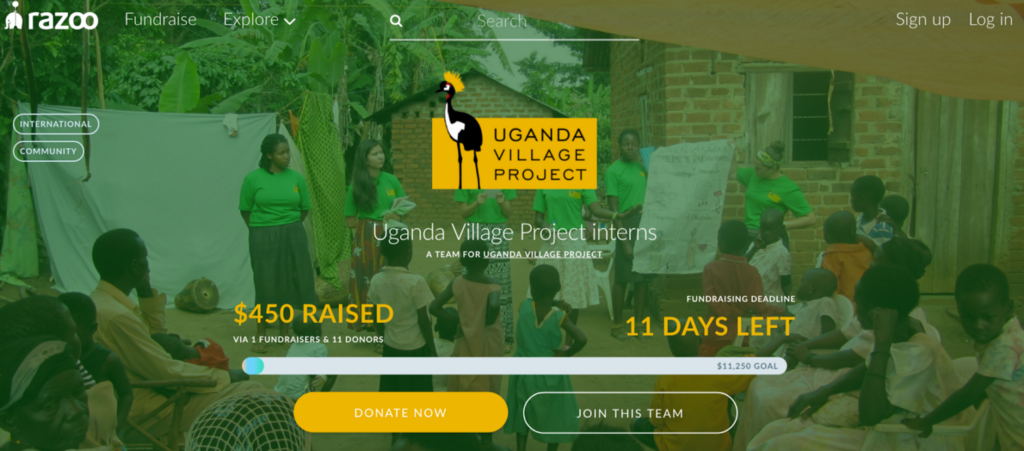 Uganda Village Project's logo is great, but when they first uploaded it, it had a white square around it which was distracting and threw off the balance of their page. Mightycause's staff helped them convert the image to a transparent PNG file, and now their logo fits seamlessly onto their page and works with their background image instead of working against it. Simply changing their logo took their page from looking a little disjointed to having all of the elements of their page work in perfect harmony!
4. Add your sponsors, community partners, or just get creative with the Sponsors & Affiliates options
One of the features we're most excited about on our redesigned team pages is the Sponsors & Affiliates section. This tool allows you to recognize the businesses and community members you've partnered with for your team fundraiser, as well as any donors, members of your staff or volunteer corps, board members, or other organizations you want to recognize. It was designed to be flexible and totally customizable, so you can get creative with how you use it!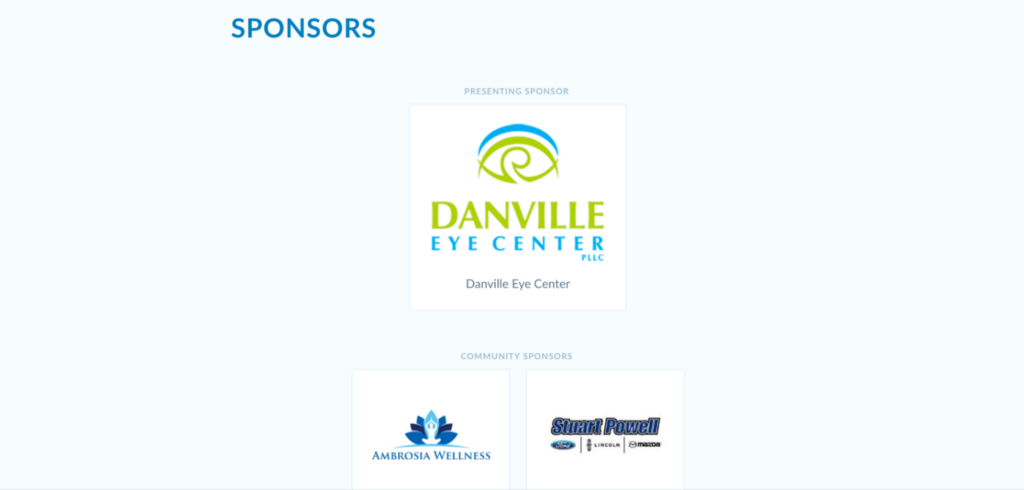 Community Arts Center used their Sponsors & Affiliates section to recognize their Presenting Sponsor, Community Sponsors, and went a step further and created a section for the businesses that would be providing food and drinks on the day of their Art-a-Thon event. This was a creative way to not only recognize the sponsors and businesses involved in the event, but give a full picture of the Community Arts Centers' involvement in the community and elements of their event. (Not to mention luring in participants with the promise of excellent local fare at the event!)
5. Add media to your story
Your story is the real meat of your team page — it's where people will go to find out what your team fundraiser is all about, what cause you're supporting, and seek out more information about both joining and donating to your team. But a wall of text can be off-putting to visitors — studies show that the average person spends less than a minute on a website before leaving. You can increase the amount of time someone spends perusing your team page by adding media (photos, graphics, videos, even emojis) to your team's story.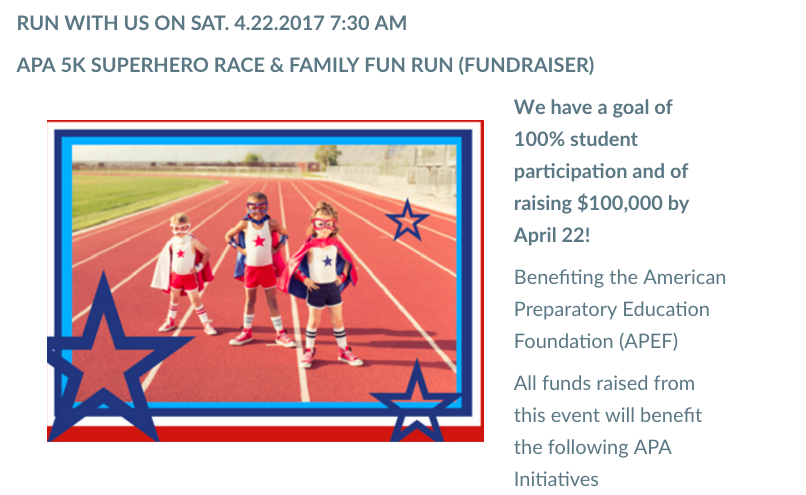 American Preparatory Academy (APA) held a 5k "superhero race" and fun run on April 22, 2017 to raise money for the American Preparatory Education Foundation, and was one of the early adopters of our redesigned team fundraising pages. They made a splash with their team page by adding great images to their story, and keeping the imagery consistent from top to bottom. (Their theme? Kid superheroes!) They edited photos to match their theme and added them into their story, and also added logos to their story along with utilizing their Sponsors & Affiliates section. The team raised over $32,000 total, and their well-packaged and thoughtful team page was an important part of their success!
Mightycause's team fundraising product was designed with the average user in mind, so you don't need to be a techie or a designer to pull together a creative and professional-looking team page. If you take all of the suggestions on this list, your page will look great — guaranteed.
If you're struggling with your page design or would like some feedback and pointers about your team page, don't be shy about reaching out! We want your team page to look incredible, and we'll help you get there. Contact us at support@mightycause.com for help!
Want to learn more?
Request a demo and learn more about Mightycause.
Request a Demo