We're Benchmarking Against Goldfish
These days, you're likely to lose a staring contest with a goldfish.
No, seriously.
A 2016 study by Microsoft confirmed that humans have an attention span of 8 seconds, largely due to the rise of mobile. "I can no longer wait in a grocery store line, or linger for a traffic light, or even pause long enough to let a bagel pop from the toaster, without reflexively reaching for my smartphone, " Timothy Egan wrote in a New York Times Op-Ed.
Our orange-scaled friends, on the other hand, have an attention span of 9 seconds.
So what does 8 seconds look like? It could be the time it takes to load a website or the time it takes to Google what you're looking for.
Or, it could be the time it takes a donor to give to your online fundraiser.
With this in mind, Mightycause has revamped its donation widget to make it even easier for donors to give without navigating off your website, blog, Tumblr or Medium post.
Our new embed tools allow you to embed with iFrame codes or the embed URL code.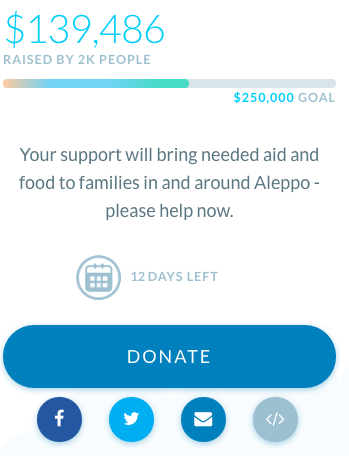 You can now find the embed tool (</>) next to the social sharing tools below the "Donate" button on the page. Just click the button to see the options to:
Embed a Donation widget
Embed a widget link to your fundraiser
Embed a simple "Donate" button
Mightycause recently used the new donation widget for a blog post on Aleppo aid relief.
The donation experience on our new feature is streamlined to allow donors to make their gifts quickly and easily with less than 5 clicks from start to finish.
This process ensures fewer opportunities for donors to exit the donation process, or worse, lose their attention.
If you've already been using a donation widget from Mightycause for your fundraiser, we recommend you uninstall it from your site and add the new widget with the simple Embed tool on your page to ensure an easier donation process for your donors.
Please note, the donation widget works best for long-form blogs and is not available for Facebook or non-HTML sites.
Start a new fundraiser on Mightycause today so you can maximize your opportunities to receive donations with our new widget.
Want to learn more?
Request a demo and learn more about Mightycause.
Request a Demo