Facebook has been slowly taking over the world since its inception as a networking site for college students in 2004. In May 2017, it was reported that Facebook was nearing 2 billion users. For perspective, the estimated population of the United States is 326.4 million. Facebook has also become an important tool for nonprofit organizations, with 9 out of 10 nonprofits in the United States utilizing the social media platform to connect with supporters. Nonprofits use Facebook to share news, quickly mobilize their supporters, engage the public in their work, and even fundraise. But recently, Facebook has been positioning itself as a competitor to platforms dedicated to nonprofit fundraising like Mightycause and aggressively marketing its new nonprofit fundraising tools, like the Facebook donate button.

Here's what your nonprofit needs to know about enabling the Facebook donate button.
The Problem with the Facebook Donate Button
If your nonprofit is registered as 501(c)(3) tax exempt with the IRS, you will see the option to add a "Donate" button to your page and your posts. When you're posting a link to your latest Mightycause fundraiser, this may seem great . Another spot for donors to click to donate to your fundraiser, right?

Unfortunately this is a rather sneaky trick. It forces users to donate through Facebook instead of your nonprofit's chosen fundraising platform.
This has proven confusing for not only nonprofits, but donors as well. We've had donors contact us, wondering why their name wasn't displayed on a fundraiser's donation timeline and why they didn't receive a receipt from Mightycause. When our staff dug into these situations, we found that the donors only thought they were contributing through Mightycause . They had actually made their donations through Facebook. So, the donors had a poor experience donating to the nonprofits, and the nonprofits missed the opportunity to straighten things out and thank their donors quickly.
Where the Funds Go
If you want to collect donations made through Facebook quickly, you must apply for Facebook's donation program, Facebook Payments. The application process requires verifying your page with your phone number, and if that doesn't work, providing a laundry list of documents. Their application even asks for your CEO's date of birth. If your nonprofit successfully signs up for Facebook Payments, you'll receive your donations via direct deposit, but those funds will be held until your donations total $100 — which means that the $30 donation someone made through your page might be held for quite some time unless you manage to collect more donations through Facebook.
If you're not signed up for Facebook Payments, you'll receive the funds through Facebook's partner platform. Funds will be sent to your nonprofit through their partner's donor-advised fund. Disbursements are received 60–75 days after the donation is made, which is quite a difference from Mightycause's twice-monthly disbursements for electronic funds transfer (EFT) and monthly check disbursements through our own donor-advised fund.
And if you get your check and want to pull a report with your donor's information so you can thank them? You've got to sign up to use the platform.
Reading the Fine Print
Facebook has come under a fair amount of fire for its data collection, and just as signing up for a Facebook account requires surrendering a certain amount of control over your personal information, signing up for Facebook Payments means agreeing to a Terms of Use with some troubling implications. We combed through their Terms of Use, and found that nonprofits that use Facebook's fundraising tools agree to:
Provide any information about your organization that Facebook requests, for any reason
Grant a "non-exclusive, transferable, sub-licensable, royalty-free, worldwide license to use, modify, and translate any Charity Content in connection with the Charitable Donation Features"
Give Facebook exclusive rights to issue press releases about your nonprofit's relationship with Facebook, and surrender your right to issue your own press release
Indemnify Facebook from any legal liability whatsoever — "indemnify, defend, and hold us harmless from and against all damages, losses, and expenses of any kind"
Using Facebook to fundraise means relinquishing control of your nonprofit's information. It means signing away the rights to the content your team works so hard to produce. You lose ability to control the public narrative about your nonprofit through press releases. Most notably, the ability to hold Facebook accountable for any losses or damages.
Targeting Your Supporters
At Mightycause, we're obviously big believers in the power of peer-to-peer fundraising. One of the most powerful things a supporter can do for your nonprofit is create a fundraiser that helps raise awareness about your nonprofit's work, brings in new supporters, and raises money to help your nonprofit continue doing good in the world. So it's no surprise that Facebook is also courting your supporters to start fundraisers using their fundraising tools.
One of our employees saw this appeal in her newsfeed over and over again in the weeks before her birthday.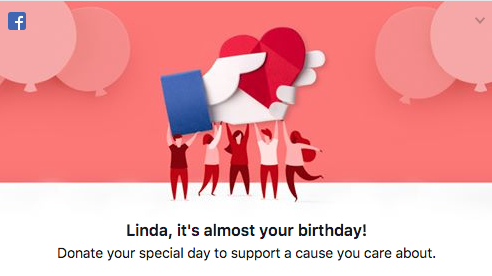 We love birthday fundraisers at Mightycause! But here's the question: did you know that Facebook was targeting your supporters in this way? It's not just close to their birthdays that they'll see these prompts. If they share a link to one of your fundraising pages, or even use words like "donate" or "fundraise" in their posts, they will see similar suggestions to start fundraisers on Facebook for a nonprofit.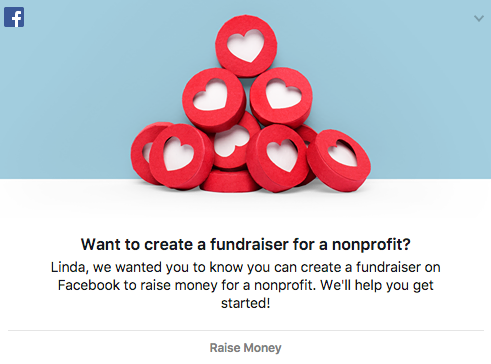 And if they share your Mightycause page on Facebook to help give you a boost, they'll see this button, which means they could unknowingly divert donations to Facebook instead of the page they linked.
Facebook, it seems, is doing everything possible to corner your nonprofit into signing up for Facebook Payments and use their fundraising tools.
Their New Nonprofit Template
If you're a Page Admin for your nonprofit on Facebook, you've probably gotten an email from Facebook prompting you to move over to a new page template for 501(c)(3) nonprofits. Here's what that template does:
Requires you to agree to their Terms of Use
Requires you to set up a Facebook Payments account
Puts their Donate button front and center on your page
Makes it easier for supporters to start fundraisers for your nonprofit through Facebook
If your nonprofit wants to use these tools, this is a great option for you. However, if you'd prefer to stick with your chosen online fundraising platform, this will pull your nonprofit's Facebook page away from your platform of choice and steer your followers toward donating through Facebook.
What to Do
We know that choosing your online fundraising platform is one of the biggest fundraising decisions your nonprofit must make. There are so many factors to consider: fees, customization options, donation reporting, user experience. Your nonprofit makes the decision about what platform to go with after careful consideration. You've spent hours discussing your needs, researching what various platforms offer, perhaps even sitting through demos with multiple platforms. Your nonprofit's decision is important. But with Facebook's aggressive marketing of its own tools, they can end up railroading you into using them for fundraising.
So, what can you do? Here are a few steps you can take:
Don't use the Donate Now button on posts (unless you want to). Now that you know how that button works, don't add it to your posts or your page unless you're on board with all of Facebook's terms. If you'd like to use a CTA button on post, the "Learn More" button will take your Facebook followers to a page you choose. Unfortunately if you've added the Donate button to a post, there's no way to remove it once it's published — you must delete the post.
Opt out of the new nonprofit Facebook page template. If you don't want to use Facebook's fundraising tools, you can simply opt out of upgrading. Don't upgrade to the new template that requires creating a Facebook Payments account and stick with your current page.
Inform your donors. Make sure that donors' hard-earned money goes to the place they intended. Give clear instructions to follow the link in your post to make their donation.
Steer supporters to the peer-to-peer platform of your choice. While you can't control whether someone starts a fundraiser for you on Facebook, you can make it known what platform you'd prefer. Include that information on your website, your Facebook page, and in emails.
The Mightycause Difference
We like Facebook at Mightycause. We use it to market our platform and help your fundraisers get exposure. We've designed tools on our platform that make it easy to share your fundraisers on Facebook. But make no mistake: Facebook is not a fundraising platform. Its main goal, and how it collects profits, is collecting and utilizing user data. While Facebook's founder and CEO Mark Zuckerburg is extremely philanthropic in his personal life, philanthropy is not part of Facebook's mission — profits are. The company's foray into nonprofit fundraising is a business decision that aims to divert funds processed through platforms like Mightycause to Facebook instead.
Mightycause is a small employee-owned business, staffed by mission-driven individuals, over half of whom come from a nonprofit background. Your nonprofit's unique needs are at the center of every decision we make. We aim to provide a service for your nonprofit that helps you further your mission and keep your programs funded.
We also provide technical and strategic support to you, your donors, and your peer-to-peer fundraisers. Facebook's Terms of Use make their limited role as a payment processor very clear. But Mightycause is so much more than a payment processor. We know how important it is for your nonprofit to be in control of your donors and your data. We're focused on giving you even more options to customize your fundraising efforts and donation management on our platform.
We also believe in transparency. That's why we're sharing this information with you. We want you to be in the driver's seat of your fundraising efforts. Mightycause will never intentionally confuse your donors, or sell their data to market researchers. We will never, ever hold donations hostage. We will never ask you to sign away your rights to your own content. You will always have the right to hold us accountable.
Have questions about Mightycause and Facebook? Feel free to contact us at support@mightycause.com.
Want to learn more?
Request a demo and learn more about Mightycause.
Request a Demo