"Finding the bright spots"
A lot of you in the nonprofit world may look at last year's campaign and look at what didn't work for you, but at Mightycause, we think you can learn more from examining what did work on #GivingTuesday. This is what Chip and Dan Heath call "finding the bright spots" in their book Switch: How to Change Things When Change Is Hard.
We'll take you through the strategies of 3 different nonprofits, all varying in size and missions, to show you what nonprofits did to bring in funds, engage donors and ambassadors and help reach the top of the leaderboard on #GivingTuesday.
We hope you can take away a few ideas that will help your organization make 2017's #GivingTuesday your most successful yet!
The organization
Washington D.C.-based nonprofit Capital Area Food Bank (CAFB) spent last year's #GivingTuesday perched at the very top of the leaderboard, ultimately raising $87,000 from more than 400 donors in just 24 hours to further their mission of preventing hunger in the D.C. metropolitan area.
They combined social media marketing with good old-fashioned grassroots marketing to make #GivingTuesday a huge success for their organization.
Here's what your organization can learn from their success to make your #GivingTuesday the best ever, climb to the top of the leaderboard, and kick off your year-end fundraising with a bang.
Matching gifts make the nonprofit world go 'round.
People in the nonprofit world come from many different backgrounds, work for an endless variety of causes, but there's one thing we all know: Donors love matching gifts.
Knowing the power of matching gifts, the CAFB worked early on to secure a $5,000 matching gift from one of their loyal corporate sponsors, Safelite Auto Glass. The CAFB then worked to publicize the grant on social media posts, targeted email blasts and even fliers. Donors were so excited about being able to double their donation to the food bank that the matching grant was fulfilled in just 3 hours.
When you're getting your game plan together for #GivingTuesday, follow the CAFB's lead and make securing a matching grant a top priority.
Talk to your sponsors, your board members, your big donors and supporters, and reach out to find a matching grant to help drive donations on #GivingTuesday.
Do the digital hustle.
#GivingTuesday is all about online giving, and while there are many paths to the top of the leaderboard, the easiest path is through online marketing.
The CAFB came up with a digital marketing plan that included all of their online channels — social media, their blog, their email list.
They have over 16,000 followers on Facebook so they promoted their #GivingTuesday fundraiser there, paying to strategically "boost" posts on Black Friday and on #GivingTuesday. They posted frequently about #GivingTuesday on Twitter, where they have nearly 8,000 followers. They also posted a blog to their website, which gets 15,000 unique visitors each month. They made a point of thanking the donors, local businesses and sponsors who supported the CAFB.
Take an inventory of all the opportunities you have to reach out to your supporters online and come up with a digital marketing plan. It doesn't need to be an MBA-level masterpiece, just a who, what, where, when and why to get your team organized and make sure your organization leaves no digital stone unturned.
Prepare content, figure out where your online audience is and how to reach out to them, determine your budget for paid advertising, and come up with a timeline to make sure you're hitting your online channels when it matters.
Take it to the streets.
The CAFB didn't restrict their marketing efforts to the digital realm: they went old school by going into the community and handing out fliers the day before #GivingTuesday.
Yes, paper fliers.
They sent staff armed with fliers to different metro stops across the D.C. metro area and into local businesses to spread the word about #GivingTuesday and generate word-of-mouth. They handed out roughly 500 fliers with blurbs about the food bank's work and mission, their campaign's URL and information about #GivingTuesday. Getting out of the office and into the community helped them drum up support from people who may not follow them on Facebook or subscribe to their e-newsletter and allowed them to build grassroots support.
If your organization is located in a bustling metropolis like Washington D.C., it's especially effective to get outside and start handing out fliers! You have a whole city at your doorstep — why not reach out to the people in it about #GivingTuesday?
In suburban or rural areas, you may need to be more strategic about where you send staff or volunteers to get the biggest return on your efforts, but fliering can help you reach new audiences and help you find people who may not be following you online but want to support your cause.
Face-to-face contact with your organization's staff and volunteers is powerful, because it makes the "ask" feel more personal than an email or a tweet.
This is the kind of thing volunteers love signing up for, so if you've got a small staff, have your volunteers take to the streets for you! Volunteers can be some of your most enthusiastic ambassadors and many of them will know just the right places to hit in the community.
Refine your messaging.
The CAFB's key message for #GivingTuesday was simple and effective: $10 provides 25 meals for families in need.
They set up suggested donation amounts on their Mightycause page around this message so donors understood how even a small donation can make a huge difference for their neighbors in need.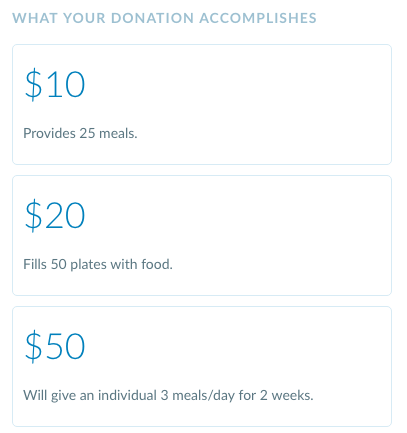 With this metric, the CAFB was able to raise the equivalent of 217,500 meals on #GivingTuesday.
As we know, sometimes people can be funny about giving money: they often prefer to give in-kind donations, even if money is what your organization needs most. Instead of sticking dollars into the collection bin at an animal shelter, they'll bring in blankets and toys for the animals. Instead of giving money to a food bank, they'll donate canned goods. This is because donors like to provide tangible items to nonprofits, where they can imagine how they will be used. For instance, those blankets and toys provide comfort for shelter animals, which is more powerful to donors than dropping a $20 bill into a bin.
Use this line of thinking to help put monetary donations in real-world terms for your donors — show them what their donations will provide.
The CAFB used this method of messaging to great effect and made the monetary donations translate into real-world help for families in need. Come up with a way of framing donations on #GivingTuesday that makes them feel personal and tangible for donors.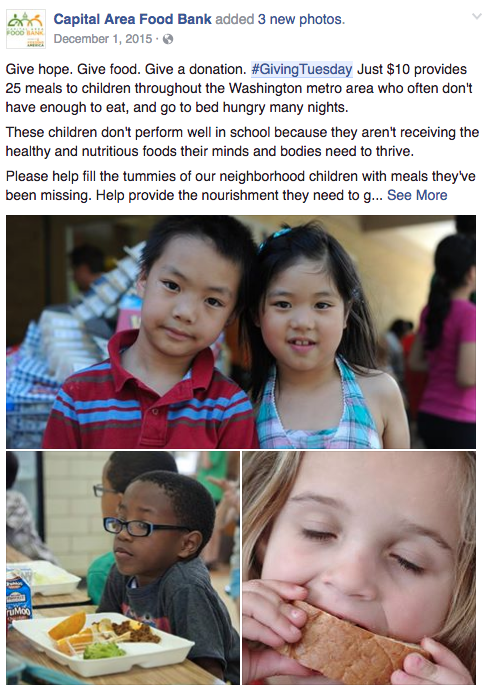 Another great way to hone your message and make sure you stay on message is to create a communications plan for #GivingTuesday.
This doesn't need to be a 10-page document, in fact it can just be a single page: come up with 3–5 important messages about your organization to communicate on #GivingTuesday. Make sure your hit on at least one of them in every single Facebook post, tweet, email and blog post about #GivingTuesday. Weave these messages into all of your communications about #GivingTuesday. This will help your organization be clear and concise and make sure everyone at your organization is on the same page.
Send reminders.
#GivingTuesday takes place during a time that is hectic and filled with family gatherings and shopping trips for most of us — it's always the Tuesday after Thanksgiving, when most of us are still bloated from eating too much pie, frazzled from Black Friday shopping and fatigued from traveling to see family. So, the CAFB made a point of reminding previous donors about #GivingTuesday since it's easy to forget during the hustle-and-bustle of the holiday season.
They targeted #GivingTuesday donors from previous years as well as their online donors, sending them emails leading up to the big day, sending them to their #GivingTuesday page and encouraging them to make donations. They let them know about their matching grant and included their messaging about making a $10 donation.
If you use email marketing software, you can schedule these emails well in advance so you can concentrate on day-of activities at your organization.
It may also help to reach out personally to your top donors, or those who gave big last year on #GivingTuesday, to ask them to save the date and enlist their support.
Want to learn more?
Request a demo and learn more about Mightycause.
Request a Demo