Chip Rosencrans has raised tens of thousands of dollars for breast cancer research in honor of his late wife Cindy
About 1 in 8 women will develop invasive breast cancer in her lifetime, and countless people are affected by the diagnosis of a loved one. It's estimated that in 2016, 246,660 new cases of invasive breast cancer will be diagnosed, along with 61,000 cases of non-invasive breast cancer. Breast cancer touches so many lives — and one family has raised a staggering $82,422 to research the type of breast cancer that took their wife and mother from them.
Cindy Rosencrans was diagnosed with Triple Negative Breast Cancer in 2006, a rare type of cancer that affects approximately 10–20% of breast cancer cases.
Despite her diagnosis and illness, Cindy strived to help others. "She said to me once, 'In cancer, there's a silver lining. I wouldn't wish it on my worst enemy, but you have an opportunity to talk to people about what you're going through, and really strengthen relationships'," her husband Chip told the Mightycause Foundation in 2013. "You really see how many people care about you and love you when you have to go through something like this."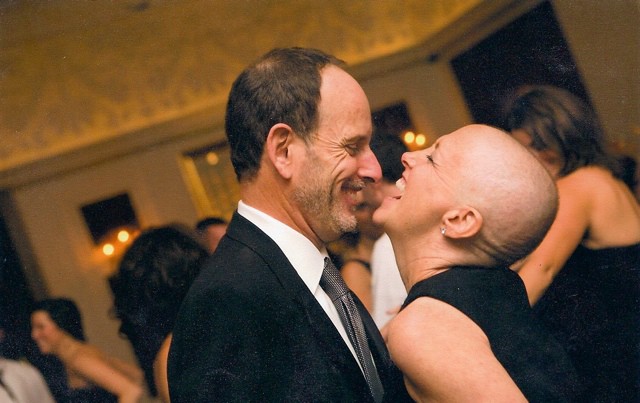 Cindy aimed to find the good in a terrible situation. To help other women facing a diagnosis of Triple Negative Breast Cancer and find new treatment options, she established the Cindy Rosencrans Triple Negative Breast Cancer Fund at Johns Hopkins University.
Tragically, Cindy passed away in 2009. In the years since losing her, Cindy's family has been honoring her by raising money for Cindy's fund on Razoo.
For their first fundraiser in 2012, Chip and his daughter Ali ran the Marine Corps Marathon and raised $21,200, exceeding their goal by $1,200. Running the NYC marathon in Cindy's honor became an annual tradition for Chip and Ali.
In 2016, Chip broke with tradition and took on a new challenge: He climbed Mt. Whitney, the tallest mountain in the United States.
The 14,505-foot climb was the biggest fundraiser for Cindy's fund at Johns Hopkins yet, raising $41,296 for Triple Negative research and treatment.
The Rosencrans family can serve as an inspiration to others whose lives have been touched by breast cancer — rallying together to fundraise can help you both honor a loved one who was taken from you by breast cancer and help others facing down a diagnosis.
Here's how you can get involved in raising money to help those with breast cancer:
Find a charity: The care that those with cancer receive at treatment centers, hospitals and support groups is priceless. But, you may want to start a fundraiser for a nonprofit that supported you and your family throughout the diagnosis and treatment. If you don't have a specific charity or fund in mind like Chip and the Rosencrans family did, there are lots of worthy nonprofit organizations on Mightycause for which you can fundraise, from national organizations to local chapters and groups. Search for organizations supporting breast cancer research and treatment here!
Make it personal: One of the major reasons the Rosencrans family's fundraisers have been so successful is because of the touching personal story: Each page they created discussed Cindy's life and why this cause was so important to her and their family. So, before you start a fundraiser for breast cancer, think about your personal connection to the cause. The more people who visit your fundraiser can sense your strong connection to a cause, the more people will rally around you to support you.
Tie your fundraiser to an event: The Rosencrans family has run marathons and climbed mountains to raise funds for the cause closest to their hearts. Even if you're not a runner and you get vertigo at the mere thought of climbing a mountain, you may be able to find an event or milestone you can use to focus your fundraising energy. Donating your birthday to a charitable cause is easy and doesn't require an athletic prowess — and people will be looking for ways to celebrate your birthday anyway! Special events like weddings, anniversaries, births, and more can be used as vehicles to raise money for charity.
Make it a tradition: Like the Rosencrans family, you can rally even more support for your cause by coming back to fundraise year after year. People who've donated to your fundraiser in previous years are more likely to return to donate to your next fundraiser, and you have the opportunity to bring in new donors and grow your fundraising efforts. Coming back to the same cause and the same platform year after year also builds trust — your donors can feel confident that the funds they contribute will end up with the intended charity.
Start a charitable fundraiser on Mightycause today!
Want to learn more?
Request a demo and learn more about Mightycause.
Request a Demo