Jeff helped his friend celebrate his 30th birthday by crowdfunding his dream project of reinventing "The Oregon Trail"
Turning 30 is a huge milestone. When many of us reach "the big three-o," we look back on how far we've come and what we've accomplished and think about where we'd like to go in the future. For some of us, reaching such a big milestone and staring down our fabled "Saturn return" motivates us to revisit a long-held dream. It may be studying a new discipline, learning to play an instrument, starting a novel, or any aspiration that's been kicking around unfulfilled for as long as you can remember.
For John Capogna, the dream that wouldn't die was reinventing the beloved game "The Oregon Trail."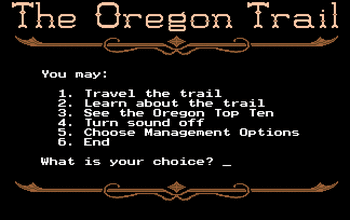 For those of you who did not grow up playing this game on your classroom's giant Apple computers in the early 1990s, "The Oregon Trail" is a point-and-click video game produced by Minnesota Educational Computing Consortium (MECC) where you choose your own adventure as you take your family on a quest westward as a 19th century pioneer. You encountered obstacles and difficult choices on your journey, such as deciding which path to take, whether you should rest or move forward, and hunting for food (making decisions about which game to hunt and whether you can realistically carry it with you). Many players and their pixelated families ended up dying in ways typical of pioneers, such as cholera or dysentery, as a result of the choices they made in the game.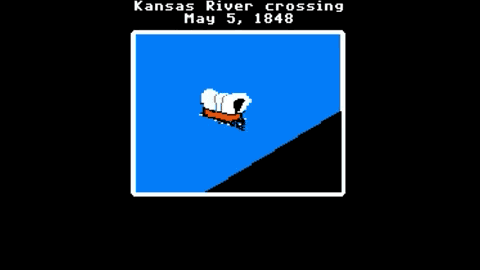 The game mirrors what John experienced trying to remake it, with twists and turns and difficult choices and unexpected obstacles diverting his path.
John dreamed of reinventing "The Oregon Trail" as his grad school thesis, but he left NYU's prestigious ITP program and never got to complete his project. "After spending a year in the program and thousands of dollars on tuition, John decided his money and time would be better spent creating his own education, catered to how he wanted to learn and make art," his friend Jeff wrote in the fundraiser he created for John.
John never stopped pursuing his dream, through multiple iterations and stops and starts. "He has invested thousands of dollars at this point on travel, hiring story creators, developers, designers, etc. to get him to this point."
The fundraiser
To celebrate his friend's 30th birthday on February 21, 2017, and help him fund his dream of traveling, creating art, and designing his own education, Jeff started a fundraiser on Razoo to rally support from John's family and friends.
"The budget for the project is set at around $12k — $15k, but I know that we can give him a head start on that," Jeff wrote. "I want to raise $3,500, some of which will go towards the paying the fees for this campaign, though I'm hoping he'll end up with at least $3,000 (for his 30th birthday, see?). This chunk of money will give John the optimism to keep going and know that he's cared for in the process."
Jeff recorded a video for his campaign, and managed the tricky task of keeping his fundraiser a secret from John and reaching out to everyone who knew him for support for his birthday fundraiser.
Jeff far exceeded his stretch goal of $3,500, raising almost $5,000.
Lessons learned
Personal outreach
The most remarkable thing about Jeff's fundraiser is that he did something that seems impossible: He ran a successful crowdfunding campaign while keeping it a secret from John. At Mightycause, we typically recommend promoting your fundraiser to your entire social network to gather support, but Jeff's fundraiser proves that you can run a successful campaign while keeping it quiet.
Conducting personal outreach, such as personalized emails to friends and family, can be an incredibly effective way to gather support. By tapping into a wide circle of people who care about John and wanted to show their support, Jeff was able to get donations and reach his goal without blasting the fundraiser to his entire social media network and instead focusing on reaching out directly and deliberately. This tactic obviously works best if you already have a large group of people you can reach out to, so it helps to take inventory of the people you want to ask for support to make sure that your circle is large enough to realistically provide the kind of support you'll need to make it to the finish line. John's circle came out in droves to support him — donations from 42 people helped fund his project for his birthday.
Media
Another key to Jeff's success was adding media to his page to help tell the story about his fundraiser and John's dream project.
Jeff's video was personal, endearing, and effectively communicated what this fundraiser was all about and why both John and his dream project were worth supporting.
Looking into a camera and asking for support can be an incredibly powerful way to make your fundraiser stand out — and you don't need fancy equipment or video editing software to do it. Jeff's video was recorded in his bedroom and uploaded to Vimeo. Using a webcam or a cell phone to record a video is simple and easy, but can make a huge difference in the success of a personal fundraising campaign.
Jeff also included a "teaser trailer" and images that demonstrated his vision for his reimagining of "The Oregon Trail." Visuals are always important for personal fundraisers, but when you're crowdfunding for a creative project, it's especially important to show instead of tell. The teaser trailer and images helped demonstrate what John's vision was, and helped create intrigue for the project itself.
Persistance
Jeff says in his video that he knows this fundraiser would be a lot of work for him. It's an attitude that serves personal fundraisers well — Jeff knew that crowdfunding for his friend was an ongoing project that didn't stop when his page was published. His hard work reaching out to the people who know and care about John to help fund his dream paid off in a big way, raising nearly $5,000 (close to half of John's projected budget for his project).
Celebrating milestones
Big milestones and life events like birthdays, weddings, births, and retirement are great times to fundraise. Why? Because you're always in your friends and family's thoughts, of course, but you're a little closer to the forefront when you're approaching a major milestone, and many people are already thinking of how they can help you celebrate that milestone. Directing that energy loved ones have to celebrate with you into a fundraiser that helps you achieve a goal takes out the guesswork, and rallies everyone around a common cause.
By organizing his fundraiser around John's big milestone birthday, Jeff was able to help John get closer to achieving his dream by directing the love and support of his friends into something truly meaningful for him.
Start funding your own dream project on Mightycause today!
Want to learn more?
Request a demo and learn more about Mightycause.
Request a Demo